Blocks wiki-Press sensor
Press sensor

State

Solid

Mass

5.4

Oxygen inventory

300

Specific heat capacity

450

Thermal conductivity

2.85

MeltingPoint

1535

Maximum pressure

1550

Particle penetration rate

0.9

Synthetic method

Circuit boardx1
Steelx1
Semiconductorx2

The pressure sensor detects the block pressure in the specified direction. The pressure value is converted to a signal voltage.
The pressure sensor has its own function of Wifi and can set its channel. When the channel is the same as other Wifi blocks, the signal voltage can be transmitted remotely.
The pressure sensor only supplies the signal voltage to the non-detection direction (the effect is shown below).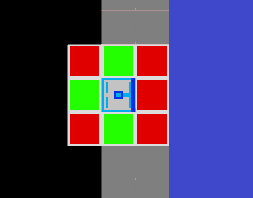 Blocks wiki
| | |
| --- | --- |
| Basic | |
| Structure | |
| Material | |
| Machine | |
| Industry | |
| Engine | |
| Power | |
| Signal | |
| Sensor | |
| Logical | |
| Nuclear | |
| Weapon | |
| Other | |
| Remove | |