Blocks wiki-Adv pump
Adv pump

State

Solid

Mass

11.1

Oxygen inventory

300

Specific heat capacity

450

Thermal conductivity

3.2

MeltingPoint

1535

Maximum pressure

1750

Particle penetration rate

0.9

Synthetic method

Pumpx1
Fine steelx1

The advanced water pump has the same effect as a normal water pump when it is placed in a single place. Its advantage is that it can be stacked to compensate for the disadvantage that the pump cannot withstand pressure.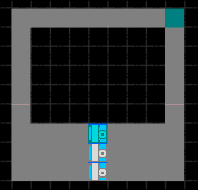 Advanced pumps require electricity to provide energy, and consume 5u of electricity per tick when the block pressure difference between the inlet and outlet directions is less than 500.
Like the pump, when the pressure difference is greater than 500, the power consumption will increase by 0.02u/pa.
The advanced pump also draws air pressure until the pressure at the inlet becomes zero. Advanced pumps draw pressure three times faster than conventional pumps.
The advanced water pump also has the same function as the cargo hold block and can be used as a cargo bulkhead.
Blocks wiki
| | |
| --- | --- |
| Basic | |
| Structure | |
| Material | |
| Machine | |
| Industry | |
| Engine | |
| Power | |
| Signal | |
| Sensor | |
| Logical | |
| Nuclear | |
| Weapon | |
| Other | |
| Remove | |